I read a total of 2 books during this read-a-thon. Considering I was in a reading slump period before joining this, I'm quite proud of my achievement. Here are the 2 books I finished :
My True Love Gave to Me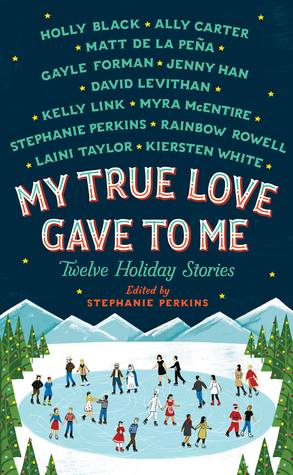 This book is a pretty cute book. It consists of 12 short stories written by different authors. Most of the stories are cute and give you that warm fuzzy feeling but there are also some stories that I personally think really weird and I didn't actually enjoy that much. All of the stories in this book have Christmas as the setting and it really is a perfect book for holiday. My favorite stories would be the one written by Rainbow Rowell. The plot and the character are fantastic. I really need to pick up her books because damn I haven't read any book she wrote. This book can be a perfect holiday gift for you loved ones or even yourself.
Saga, Vol. 1
Saga is an epic high fantasy graphic novel. I finished this book in 2 days just because I started this book late at night. This is seriously an awesome graphic novel. I've read lots of manga back when I was a kid but this is my first time reading a graphic novel and damn this book is mind blowing. I love everything about this book, the graphic is awesome, the story is brilliant, I can't say anything about this book except the word awesome. I've start reading the second book on the last day of read-a-thon but I cannot finished it due to my schedule. I hope I can finished it as soon as possible because this is one quick and great read. I have no disappointment picking this up.
That's all I read during this read-a-thon. It's not that much but I'm pretty satisfied because I got over my reading slump because of joining this read-a-thon, well mostly because of the graphic novel I read. I really suggest people to read graphic novel during reading slump because it really works. It got me back into reading. How's your read-a-thon? If you happened to read this post and join a read-a-thon as well, I'd be very happy if you tell me your experience in the comment. I'd love to hear your story about your read-a-thon experience.
Cheers,
E